Working to Prepare Students for Active Participation
---
Our signature strength is an individualized, holistic philosophy and drive for excellence. Each child benefits from team collaboration–the shared expertise of teachers, therapists, nurses, and a social worker who tailor our program to fit the need of the child. If our first approach isn't successful, we're ready to try something new. Our communication goes full circle, with information exchanged among the HMS team in a collaborative manner.
Schedule a Tour
We Are HMS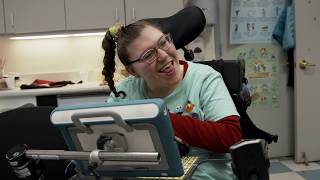 HMS School is so much more than a place: it's a supportive team of educators, therapists, nurses and social workers who collaborate to help children with serious disabilities learn, find friendship and participate more fully in their world.
View All
HMS School for Children with Cerebral Palsy
---
HMS School for Children with Cerebral Palsy, located in the University City neighborhood of Philadelphia, serves school-age children and young adults through age 21 who have complex, multiple disabilities usually resulting from cerebral palsy, traumatic brain injury, or other neurological impairment. Renowned for our success in empowering students, HMS's day and residential programs maximize achievement and promote independence. Every child flourishes in our nurturing, respectful environment.
About HMS
Most people have no conception of what the gift of communication is really worth. But when your teenage child is able to tell you he loves you for the first time, you realize it is priceless.